Genesys Cloud
Welcome to the setup process of auvious virtual counselor.
This is the initial setup screen that will appear immediately after enabling the Auvious Video Counselor application from within your Genesys Cloud platform.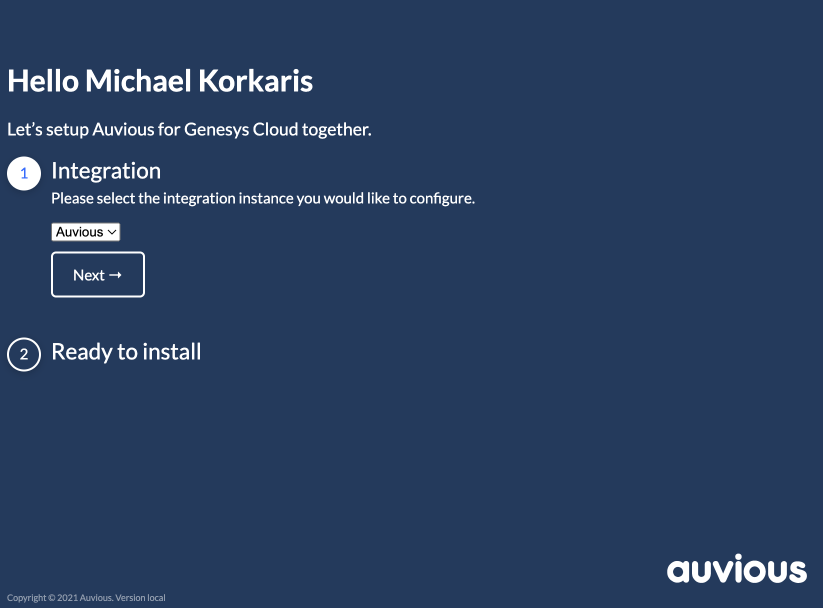 Overview​
This is an overview of the Genesys cloud specific settings. Please refer to the Settings section for a complete list of the available settings.
Integration​
Select the instance you are setting up right now. This option appears only if you have more than one unconfigured instance of the Auvious Video Counselor.
caution
Once the installation is complete, you must assign a group to this integration in order to be visible to agents. This can be done at the "Admin / Integrations" page.
Ready to install​

Once you have completed the previous steps, click to install the application. You will be presented with a link to Continue your application. By clicking it, you will be redirected to the Auvious Video Counselor application landing page. This will be your welcome page every time you open the application.
After a few minutes you will be prompted to refresh the page because of an updated application configuration. This is expected because of the installation. You can just refresh the page once you land on the welcome page.
You can revisit these Settings at any time by selecting the "Settings" option from within the main panel, in the top left corner of the application.
info
You must have an Administrator role or have the permissions 'integrations: integration:add' & 'integrations:integration:edit' assigned to your role to be able to view the "Settings" page.
caution
Your organization will only be able to use Auvious after the integration:auviousApps:view permission has been granted by an administrator.
Please do this now for all users who will be using Auvious.